Dermamelan, not just a peel but a system
What is Dermamelan?
It is an effective combination of professional in-clinic and home maintenance treatment.
Dermamelan is a versatile professional topical lightening procedure adaptable to any skin photo-type and easy execution.

What does it do?
Reduces and helps eliminate accquired skin blemishes of melanic origin (pigmentation)

Increases skin luminosity

Equalises skin tone
Melanin pigmentation disorders
Melanogenesis is influenced by exogenous and endogenous factors which may lead to excessive localised melanin production. Said excess melanin appears in the form of unsightly melanic blemishes, which in most cases has no pathological importance.

They are accquired skin blemishes, unlike those of genetic origin.
Leukodermian or hypomelanosis - Vitiligo and pityriasis alba

Melanoderias or hyper-melanosis - Lentigo, freckles, nevus

Freckles or ephelides

Juvenile lentigo

Senile lentigo

Post-inflammatory hyper-pigmentation

AIM: TO REDUCE AND HELP ELIMINATE SKIN BLEMISHES OF MELANIC (PIGMENT) ORIGIN
The topical application of cosmetic ingredients consists of lightening action aims to lighten the skin and eliminate the unsightly blemishes of melanic origin (pigmentation).
The target of topical de-pigmentants is the melanosome, however, the ingredients are applied topically in the conventional manner, i.e. on the skin, physical diffusion thereof is highly limited due to the low permeability of the stratum corneum. In other words,
de-pigmentant efficacy depends on their capacity to penetrate the stratum corneum to reach the melanocytes subsequently spreading to the melanosomes and related enzymes.
Advantages
Rapid lightening action

For all kinds of skin blemishes of melanic origin

Any season of the year - Even in Summer, follow by use of sunblock to guarantee treatment effectiveness (hydrating moisturiser with the sun protection by mesoestetic)

Good tolerance on all skin types - all products have been tested and rigorously prepared to guarantee maximum tolerance.

Proven efficacy - Numerous "in-vivo" and "in vitro" tests performed

Lightening and luminosity - It contains embellishing agents which equalise skin-tone giving it luminosity
What you need to know BEFORE the treatment
In discussion with clinic staff:
The method started in the clinic MUST continue at home - a home-kit is included in the initial treatment. Daily usage as per instructions must be followed. For a period of six (6) months after the initial treatment. Using ONLY the Mesoestic / Dermamelan products provided in the home-care kit and also available in clinic.

Regular contact with the staff is recommended for monitoring and progress purposes.

As (melanic) pigmentation is generally due to sun exposure, lack of sun protection during the de-pigmentation treatment may compromise or considerably reduce the efficacy of the treatment. It is crucial that exposure to the sun MUST be kept to a minimum. Sunscreen and a hat must be worn at all times. It is recommended that the Dermamelan treatment best be done during Winter and Spring.
PERFECT PIGMENT FREE SKIN IS POSSIBLE!
The Before & After images below say it all.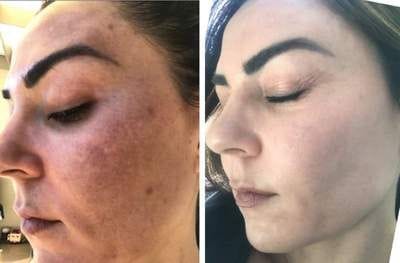 Kathy. K
Client Testimonial
"I've suffered pigmentation for the last five years. I have tried every product available on the market, whether it was creams (from pharmacists, beauty therapists or dermatologists and even the internet - you name it, I've used it!!! Have spent thousands of dollars. It was becoming very problematic and frustrating.

It would bring me tears most days as I would have to use makeup everyday, whether I was going to the beach, pools or work as i was embarrassed by my pigmentation - people would stare. I wouldn't even answer the front door without a face full of makeup. I would have to use makeup designed for stage and theatre performances and Theatres just to cover it up.
Dr Phil introduced me to Dermamelan. I was skeptical at first but hopeful.

Eight months down the track, and WOW!!! It has been life changing to say the least. I still cannot believe when I look in the mirror each day. My confidence is back and I love my skin.
This is highly recommended and I wouldn't hesitate to recommend it to anybody. If you are like me and had nearly given up TRY IT!!"..... Kathy. K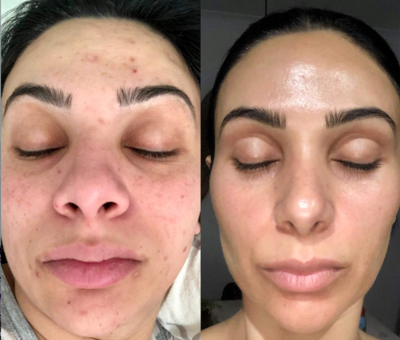 Skin Investment | For You & Your Skin....
The one-off in-clinic application treatment, consultation and Home Care Kit that lasts approximately 3-4 months
costs $1500.
A deposit of $750 is required on making the appointment for the treatment and the balance is required
on the day of the treatment appointment.
The treatment is available in our clinic at Hurstville
For more information please feel free to contact us on 0468 600 134
Follow Us On Instagram & Facebook @alphacosmedicclinic