Anti-Wrinkle Injections in Sydney

*BLACK THURSDAY SPECIAL $8/PER UNIT* T&Cs Apply

Our philosophy
At our clinic, we believe that all cosmetic procedures should result in a natural look afterwards. If someone can tell you've had a procedure, then we've failed. When it comes to our anti-wrinkle injections in Sydney, we've always strived to use the smallest, most effective dose of wrinkle relaxer possible in each area whilst obtaining a natural, refreshed outcome. The idea behind our wrinkle injections in Sydney is that other people should think you look refreshed, as if you've just come back from a holiday or you've had a good, long sleep.

How it works
Our anti-wrinkle injections in Sydney contain a muscle relaxant protein obtained from a bacteria. It is a naturally occurring protein which has been purified. When injected into a specific muscle group it causes a temporary relaxation that softens the wrinkles in the area thereby giving a more youthful appearance. The injections can also lift areas by relaxing the muscles pulling downwards. We only use the original brand wrinkle relaxer not cheap imitations.
The appointment begins with a consultation with our Nurse or Doctor to work out the correct dose to use for each area. We then apply an extremely strong anaesthetic cream which is a formula only available to us, this cream will numb the area to be injected and make the treatment much more comfortable. We use the smallest needles possible to inject the wrinkle relaxer
We then apply disposable ice packs just before injecting, in order to minimise the discomfort even further. The end result is an almost painless injection with little risk of bruising.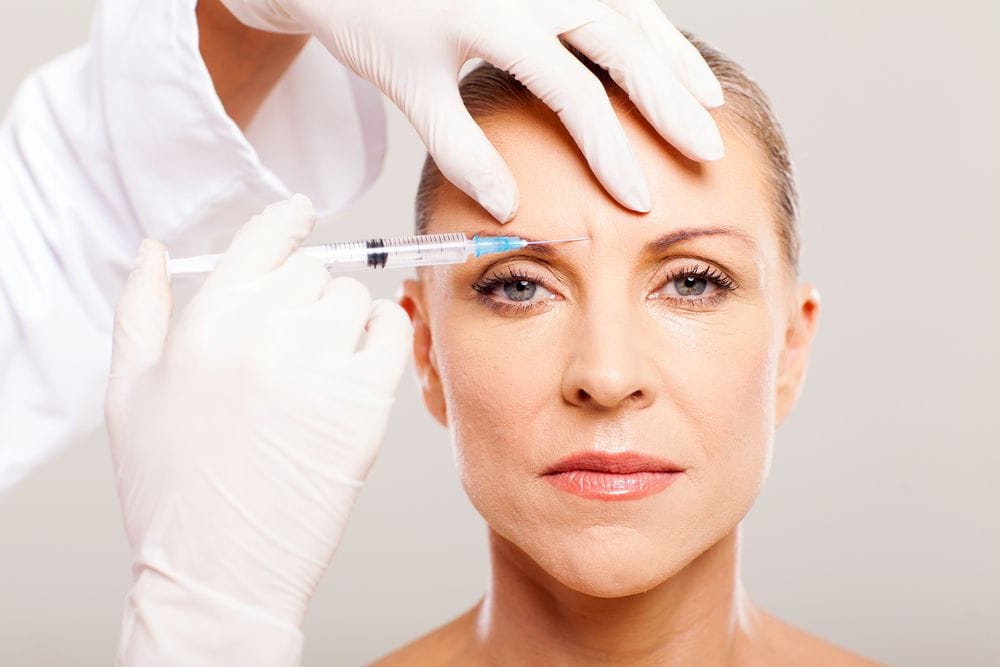 What to expect
The wrinkle injections will start working within just 3 days, with the full effect occurring in 10-14 days. Initially, the results will last 3- 4 months, with it lasting longer and longer as time goes by. The trick behind wrinkle injections is to not let the muscle fully recover and re-strengthen before the next dose. So, the best time for the next injection is about a week or two after significant movement starts occurring.
HOW MANY UNITS WILL YOU NEED? The number of units and results may vary from client to client. This will depend on depth of wrinkles, skin laxity, muscular strength & frequency of treatment.

Estimated number of units per area for anti-wrinkle treatments are:
Forehead: 8-10 units
Frown: 20 units
Crows Feet: 24 units
Brow Lift: 8 units
Top lip: 4 units
Masseter (jaw muscle): 50-90 units, this usually lasts 9-12 months
Underarms to help prevent sweating issues: 90-120 units

Our complimentary consultations for anti-wrinkle injections are available now. To find out more about our wrinkle injections in Sydney please contact us here. OR Call on 02 9579 2777 or TEXT 0402 469 246
T&Cs BLACK THURSDAY SPECIAL
- Offer available only Thursday.
- Limited times are available
- Minimum number of 30 units purchased
- Script fee applies to all new clients
- Product used, German manufactured wrinkle relaxant
- Number of units provided to clients may vary
- Results may vary from client to client
- Appointments must be made for all treatments.
- Appointments may not be available on a specific day or time as requested by a client.
- A Deposit ($50) must be provided on booking all appointments. The deposit will be deducted from the total cost of treatment & the balance must be paid by the client on the day of the appointment.
- No Deposit. No Appointment Policy is applied.
- These terms may change at the discretion of the clinic at anytime